All Church Rummage Sale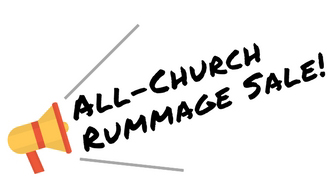 Saturday, April 28
9 AM - 3 PM
Donations
Please no major appliances, dehumidifiers, refrigerators, air conditioners, tires, sofa beds,
non-flat screen televisions, bowling balls, encyclopedias, cook books, landline telephones
or footwear.
Sorting your own donations is a great way to help! Just put your items on the appropriate tables.
Items will be accepted Monday, April 23, through Thursday, April 26, 9:00 AM to 6 PM.
No donations will be accepted Friday, April 27.
Volunteers
This event is organized by Cornerstone, but many hands are needed to make it a success!
All are welcome to join us for an organizational meeting on April 9 at 7:00 PM in the Chapel.
Volunteers are needed all week for set up and on Saturday to assist with customers.
Please sign up at the Sign Up Table April 8, 15, and 22, or click the link above.
Silent Auction
All who attend Mentor United Methodist Church are welcome to bid on silent auction/buy it now priced items.
They will be displayed again this year on the counter in the Gallery, Tuesday through Friday, with bids accepted until 6:00 PM on Friday evening.
Items won will need to be picked up by 7:30 PM on Friday.
Contact Rhonda Hoon at 440-255-6569 or rhondahoon@yahoo.com with any questions.