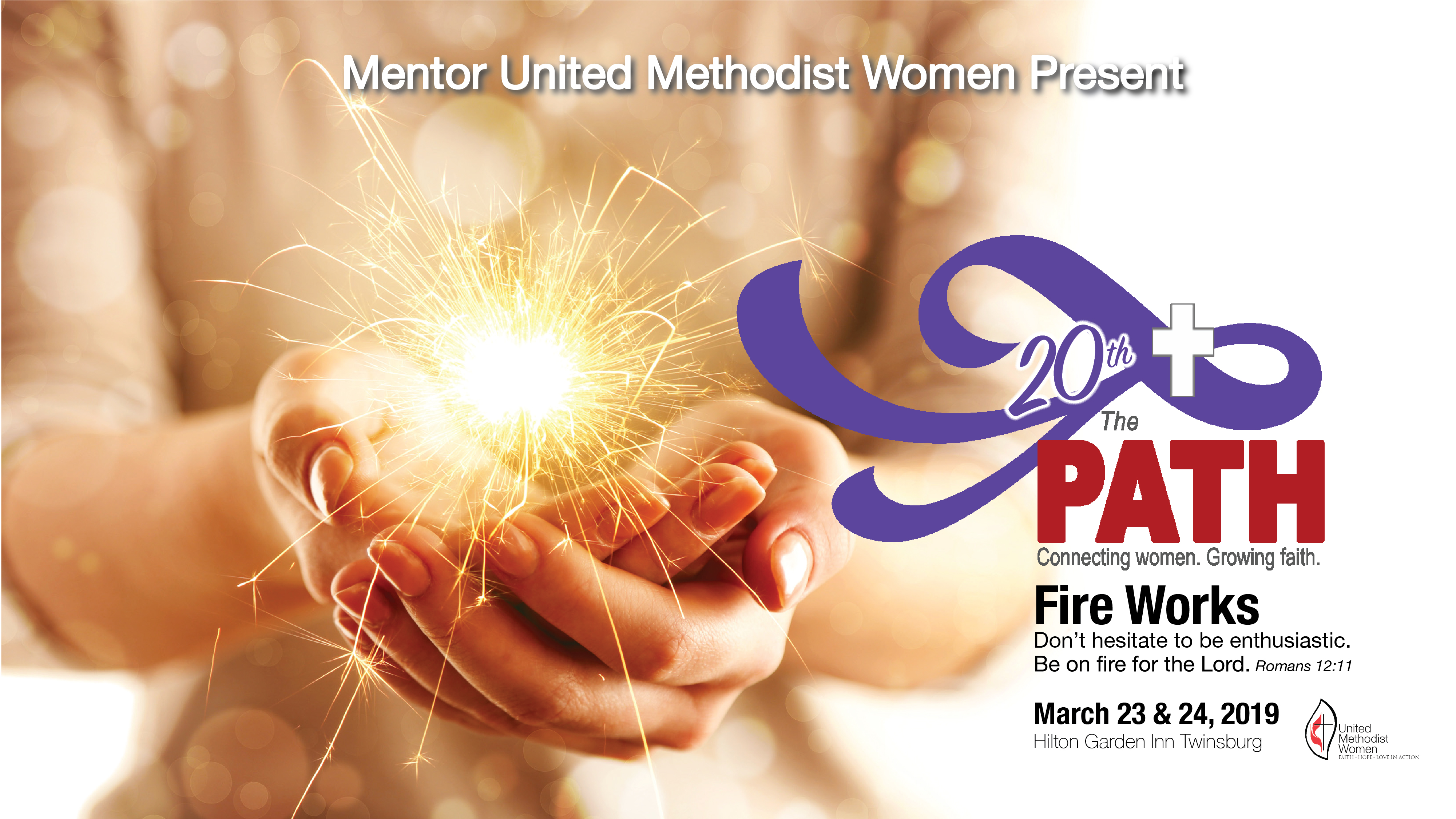 The PATH 2019
Fire Works
Don't hesitate to be enthusiastic.
Be on fire for the Lord. (Romans 12:11)
March 23 & 24, 2019
Hilton Garden Inn Twinsburg
For the past 19 years the Mentor United Methodist Church has gathered women of all denominations for a weekend of fellowship. The Path is open to all women. Come with friends, family or come on your own. Everyone is welcome.
When we asked a group of women what they appreciated most about the event they said:
• Time to relax, reflect, and draw closer to God.
• Being physically away from home but not too far.
• The flexibility and easy flow throughout the weekend.
• The great blend of women on many different paths.
PRESENTER
Peggy Streiff
Peggy is a retired United Methodist Pastor and District Superintendent of the East Ohio Conference. She served as Co-Lead Pastor at Mentor UMC from 1998-2005. While there, she initiated the Women's Retreat, now in its 20th year, which became known as the PATH, under the direction of Mentor United Methodist Women. As a church leader, her greatest love is to encourage people of all ages to grow in their faith. She looks forward to the opportunity to be with and to challenge women on The PATH.
Plan now to join us as Rev. Dr. Peggy Streiff guides and inspires us, using the imagery of fire, to reignite our faith and live in the glow of the Holy Spirit.
Click here to view or print a flyer.
SCHEDULE
Saturday, March 23
Check-In 8:00 am
Continental breakfast
The day will be filled with opportunities to connect and grow by participating in activities including:
• Speaker-led sessions
• Individual prayer time
• Break-out special interest sessions
• Mission project
• Drop-in activities
• Great conversation during meals
Sunday, March 24
Breakfast will be followed by a morning session and worship.
The Path will conclude by Noon.

REGISTRATION
Forms are available in the Information Hub at church or by clicking HERE. Limited financial assistance is available on a first come, first served basis.
Click here to register online.
2019 Individual Fee Includes:
Saturday night stay, 4 meals, all sessions and activities.
• Single $185
• Double $145
• Triple $135
• Quad $125
Registration deadline: Sunday, March 3
A $50 minimum deposit is required.
Payments are non-refundable but may be transferred to another person.
Balance due by Sunday, March 10
OPTIONAL: Add Friday night $105 per room. See registration form for details.
Additional details, directions and what to bring will be provided after you register.
Credit card payments may be made in person at the Mentor UMC church office 8AM TO 4PM Monday - Friday or online. The transaction fee for credit card payments has been added to the payment schedule below.
CREDIT CARD PAYMENT SCHEDULE (fee included):

- Deposit: $52
- Single Room Full Payment: $190
- Double Room Full Payment: $150
- Triple Room Full Payment: $140
- Quad Room Full Payment: $130
- Friday Night Room Payment: $108

TO PAY BY CREDIT CARD:
- Go to mentorumc.org/onlinegiving.
- Select "The Path - Women's Retreat" in the "Fund" menu
- Enter your one-time amount to be paid using the credit card payment schedule above
- Click "Next" and follow the instructions to complete your transaction
Call Laurie Babcock at 440-376-9005
Or e-mail lhbabcock37@gmail.com
More details, directions and what to bring will be provided after March 3 for those who register.