School Supply Drive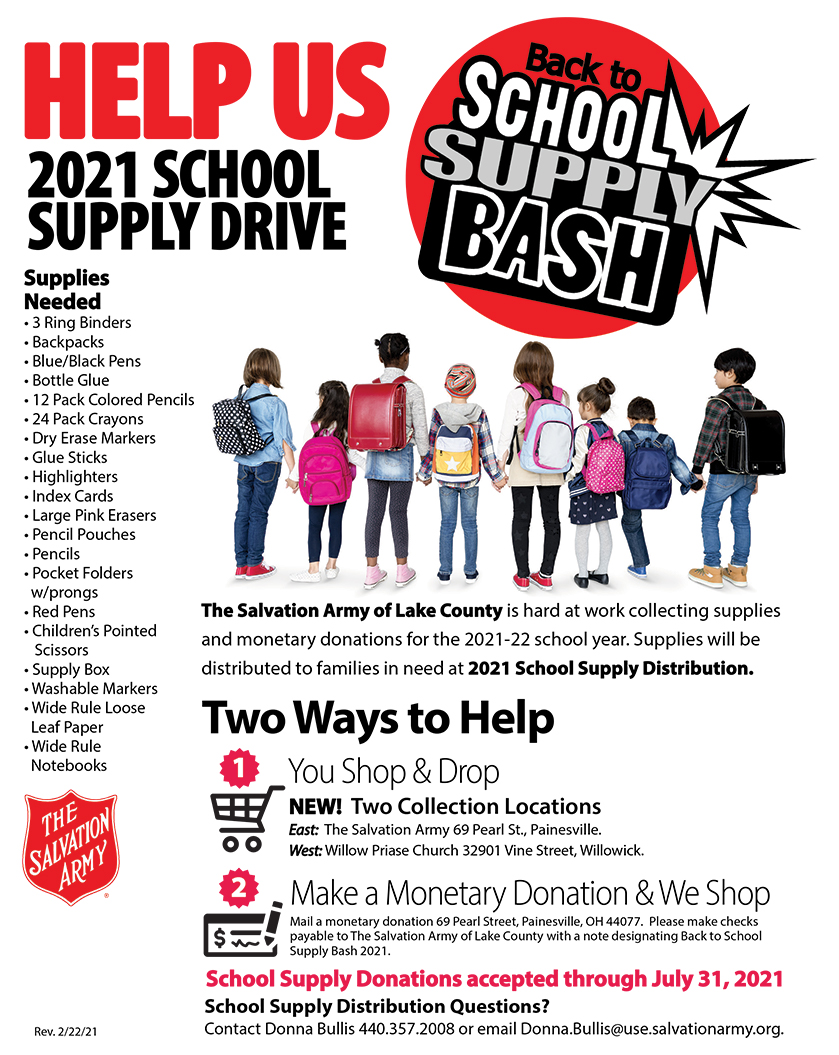 2021 School Supply Drive
There is a bus in the Community Center to collect needed supplies for the Salvation Army School Supply Bash. Let's see if we can stuff the bus every week in July! Donations are accepted through August 1.


Items needed: 3 ring binders, backpacks, blue/black pens, bottle glue, 12 pk. colored pencils, 24 pk. crayons, dry erase markers, glue sticks, highlighters, index cards, large pink erasers, pencil pouches, pencils, pocket folders with prongs, red pens, children's pointed scissors, supply box, washable markers, wide rule loose leaf paper, wide rule notebooks.


Monetary donations can be made to MUMC and noted "School Supplies". For online giving, use the fund "School Supplies - Back to School Bash".


Help pack school supplies at the Salvation Army with others from MUMC on Monday, August 2, from 9 AM until noon. Advance registrations are necessary. Please contact Donna Bullis at donna.bullis@use.salvationarmy.org or 440-357-2008 to register.


Drive-thru donation days are July 31 and August 1 from 10 AM to 2 PM. Just swing by the church during those times, drive up to the portico by the Gallery, and drop off your donations!


Over 1,600 children were helped last year so your donation of time and supplies will make a difference!