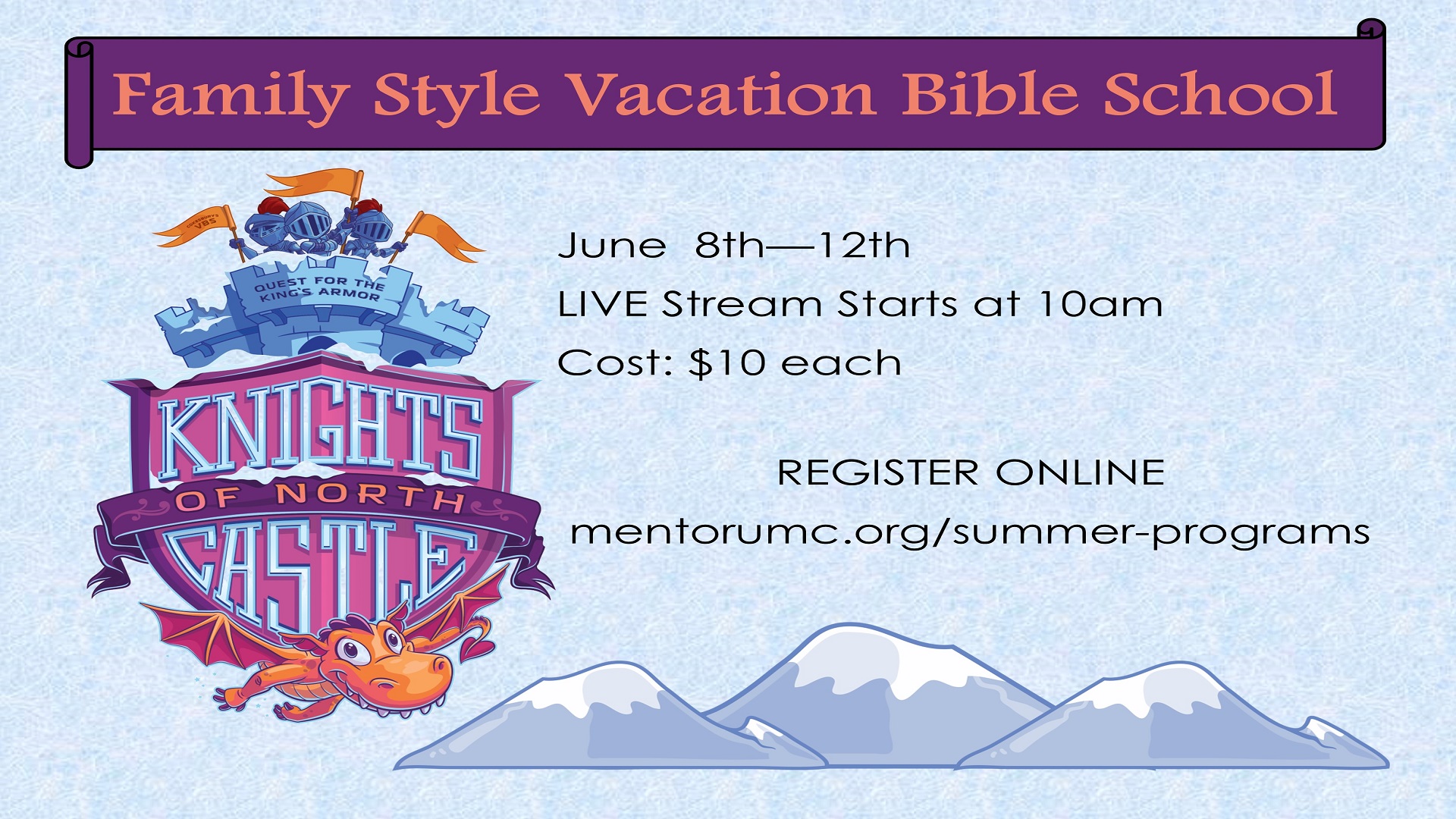 KNIGHTS OF THE NORTH CASTLE
June 8-12, 2020
10:00 am Opening Assembly via Zoom
For children age 4 (as of 1/1/20) through Completed Grade 6
Cost $10 per kid
Cash or Check: $10; Visa, MC, Discover, Diners Club, ACH: $11
Learn about how our Family Style VBS works from the video below!
Get Out Doors (G.O.D.) Camp
Follow the Way
CANCELLED DUE TO COVID19
Middle School Mission Week

July 6-10, 2020
9:00 am to 4:00 pm
Open to Completed Grades 6, 7, 8
Cost information coming soon. Scholarships Available if Needed
Contact: Leah Nash at lnash@mentorumc.org
Theatre Arts Camp

July 13-17 AND 20-24, 2020
9:00 am to 12:00 pm
Broadway Jr. Production of "Shrek, Jr."
Performances ~ Friday, July 24 at 7:30 pm and Saturday, July 25 at TBD
~~AUDITIONS WILL BE DONE VIA SUBMITTED VIDEOS DUE APRIL 30~~
Once you have registered, you will receive a link to the google folder with all of the information about auditions.
~~ALL PARTICIPANTS ARE EXPECTED TO STAY AFTER THE SATURDAY PERFORMANCE FOR STRIKE~~
Registration is CLOSED.
East Ohio Camps
2020 SUMMER CAMPS SUSPENDED
The East Ohio Conference offers many wonderful opportunities. East Ohio Camps
Mentor UMC offers scholarships to church families. Camp Scholarship Form