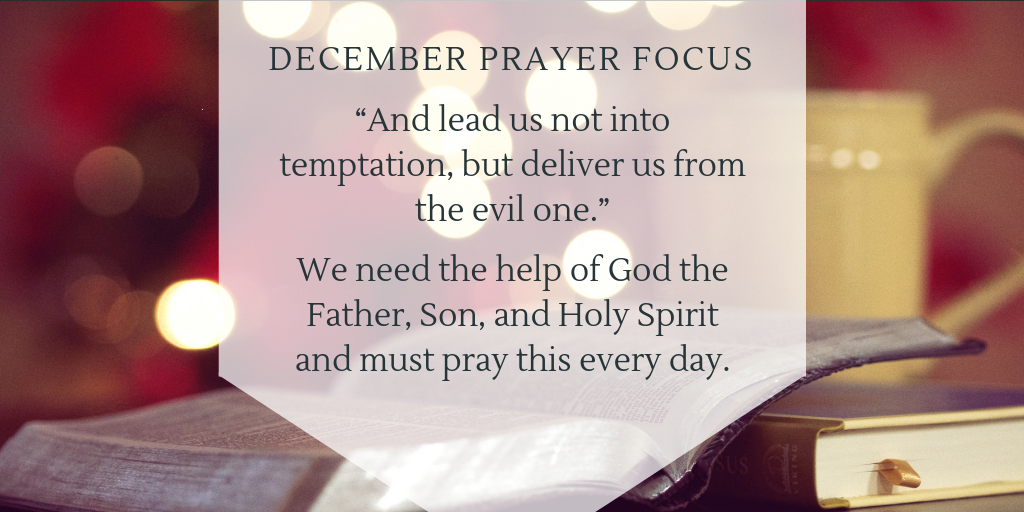 December Prayer Focus - Nancy Landerholm
"And lead us not into temptation, but deliver us from the evil one." This phrase, of the Prayer Jesus taught us to pray, will be our focus for December and then again in January. We need to understand that to be tempted is common to all. James 1:14-15 gives us the steps that temptation takes. First, there is a desire. Often the desire is a normal desire that goes out of control ( ex: the desire for sex out of control leads to adultery, fornication, pornography, etc.). Next, we start to doubt God's goodness and think that God is holding out on us if we cannot have our desires met, how and when we want them to be met. Now, God's truth is replaced by a lie of Satan.
Satan knows our areas of weakness and knows just the right bait to use to lead us into giving into the temptation. Once we have given into temptation, we have sinned. We suffer the consequences of our sin. This is a battle we all fight and we CANNOT win on our own. We need the help of God the Father, Son, and Holy Spirit. That is why we NEED to pray this daily. More on this next month.