Change the World Day Change the World Day Saturday May 19th, 2018
Change the world day has become a strong tradition here at Mentor UMC. This year we are going to participate in a world changing activity that we helped with a few years ago. We will be packaging meals with Rise Against Hunger.
Changing the world takes planning. We are planning to pack over20,000 meals on Saturday May 19th in 2 sessions. The first session will be 8-10 am and the second from 10:30-12:30 pm.There are openings for 50-60 people in each session. We will also need some help setting up and preparing on Friday the 18th from 7pm -9pm.
Changing the world is fun.
Sign up online HERE or at the sign up table in April and May. Sign up with your family or friends and make it a fun time!
The 5k race sign up will be at this LINK See the flyer below for more information.
Changing the world takes resources. There are opportunities for everyone to be involved in this mission. In order to purchase the supplies for the meal and to distribute them we will need to raise $5,925 for this event. It cost $.29 per meal. Maybe you and your family decide to set aside a specific amount per meal or per day and donate those funds toward the Change the World mission this year.
Changing the world is possible. Rise Against Hunger is a ministry that has a vision to relieve world hunger by 2030. That means 815 million people currently facing hunger down to 0 in 12 years. Check out to learn more about the mission.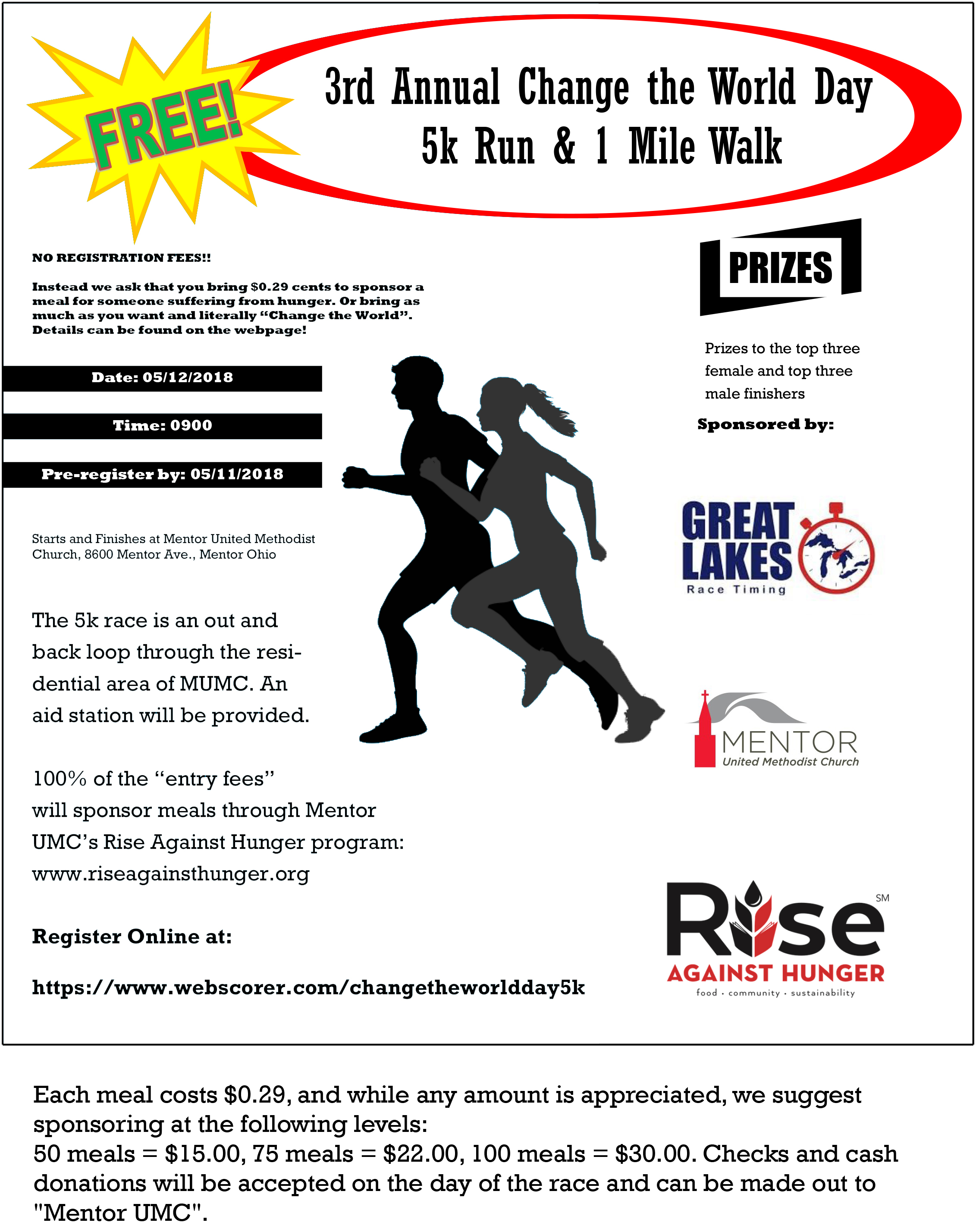 It is time to Make a Change with your Change
Our Change the World day is May 19th this year. We are partnering with Rise Against Hunger to pack 20,000 meals.
These meals will be distributed to those in need in the developing world.
It costs only $.30 per meal to provide and ship them. So as part of our Change the World project we need to raise the funds to purchase and ship 20,000 meals.
So that is where your change comes into play.
Over the next few weeks bring in your change (or your paper $ or a check)...
read on