Giving Trees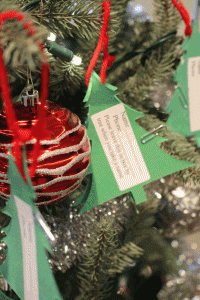 The Christmas trees in the Gallery and outside the Chapel are decorated with different giving ornament tags. Select an ornament and show Christ's love.
Donations are due Sunday, December 10 at noon.
Green Trees: GIVING Gifts for children in need. Gifts are due back by noon on December 10 and should be wrapped with the tag securely attached. There is a 2-part tag. Please fill out one and place it in the box below the tree. This gives us your contact information. The second tag is to be placed on the gift.


If you would like to shop for a whole family, please contact Betsy Iskra as soon as possible at Iskra5@aol.com or call/text 440-283-6524.


Red Hearts: SHARING Monetary donation to a charity may be placed in the envelope provided and placed in the box at the Welcome Center. Charities are Forbes House, Ohio Guidestone and Salvation Army.


Yellow Angels: PRAYING Pray for the name or group throughout the holiday season.


Blue Bells: CARING Suggestion for something you can do to help others.


White Churches: MISSIONS Donations for Camphor Mission in Liberia


Tree of Forgotten Toys
Donations of unwrapped toys/clothes or gift cards for ages birth through high school can be placed under the tree in the office. These are used to ensure all the needs of the Giving Tree are met. Gifts are due December 10. Contact Joan Sadler with any questions at 440-257-5522.